Products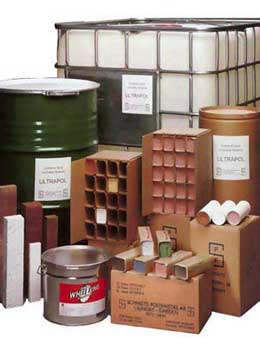 Information
Our full line of buffing, brushing and high lustring compounds are produced in bars as well as in liquid state.
Above in the menu under the tab "products" you will find a selection of compounds from our standard assortment, which may be regarded as a base assortment for most applications. They are also to be found in many variants concerning sharpness, consistency etc. Schmidts Polermedel manufactures tire mounting paste and tire mounting fluid.
Applications
Our polishing compounds are used world wide to beautify and enhance the value of products. Everyday you get in contact with items that are polished by our compounds. Sanitary equipment such as towel warmers, kitchen taps and shower taps have to be polished before entering the electroplating baths. Stainless steel household articles such as sinks, pans, cutlery and knives are polished. The polished surface makes them beautiful and easy to maintain.
Packaging
The compound will be delivered in our standard cartons holding about 25 kg. Liquid compounds will also be delivered in tins holding about 40 kg, 200 litres drums holding about 280 kg or in containers holding about 1000 kg. Tyre mounting paste in 2-15 kg plastic bucket. Other packings can also, on request, be considered.